We had two records broken this spring.  One was Harrison Young breaking the 5 year old 400m record formerly held by John Michael Chelminski (50.64).  Harrison ran 50.47.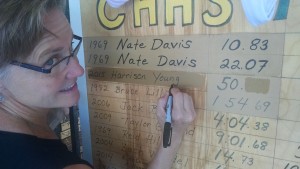 The other record that was broken was the girl's 1600m formerly held by Angie Morey from 1996 (5:07.1).  Sophomore Clare McNamara crushed it by over two seconds in 5:05.01.
Congrats!
Current XC and Track records can always be found here.