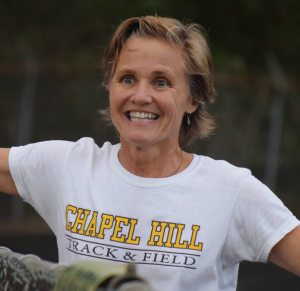 Coach Joan Nesbit Mabe
Joan is a long time competitive runner who has competed in all levels of the sport.  She qualified for 5 US Olympic Trials and coached herself to the 1996 US Olympic Team in Atlanta in the 10,000m.  Joan has coached every level of runner from young kids to All-American and American record holders.  Joan took over the Chapel Hill High School coaching reigns in 2013.
Coach Isaac Marsh
Although Coach Marsh is new to the track scene, he has been a successful and well-loved football coach at Chapel Hill High for several years.  He is truly one of the gems at Chapel Hill High.
Assistant Coach Randy Young
Coach Young was a standout runner at Dartmouth running the 200 and 400 meters.