What a way to finish the season!  Two state 3A team titles!  The senior boys' class were 4th as freshmen, 3rd as sophomores, 2nd as juniors and now end their careers with a state title.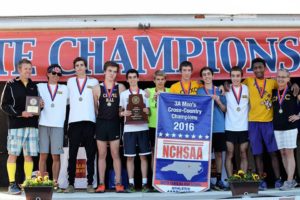 The girls finish the season with their second consecutive state title.  In many ways this was a very difficult season right from the start with freak injuries sidelining some of our top girls from the camp race all the way up until the day before the state meet.  This was not the prettiest of victories but we'll certainly take it.
Here are boys' results and girls' results from Milesplit and a link to our CHXC times database.