We are thrilled with how the season finished up!  The state meet at Ivey Redmon park couldn't have gone much better for the boys or the girls.  On a wet but not too cold day the boys started off by finishing second to Weddington after being ranked fifth going into the meet.  Ryan had a great meet finishing 18th place as a sophomore.  Dan finished with an all state performance coming in 10th.  Great races from the other varsity boys solidified our number 2 spot.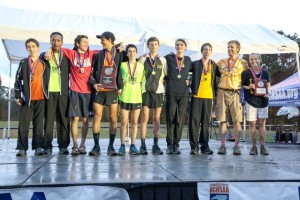 The girls got the worst conditions of the day running the last of 8 races.  The course was slick and sloppy.  It was predicted by some to be a tight race but CHXC dominated the race from the gun.  Katherine finished second to multi-time state champion Anna Vess followed closely by fellow Tiger Clare who had a breakthrough performance.  Both were all-state as was Marija coming in 5th.
It was so thrilling to end the season on such a high note!